Flipull is a clone of a Taito puzzle game of the same name (also known as Plotting) in which players control a blob holding a block. Each block has a pattern inside — either a square, a circle, a cross, or a triangle — and the player must match blocks of the same pattern in order to remove them. The objective is to remove a number of specified blocks per level given a time limit. There are 30 levels in total.
This game is known to work on GNU/Linux, Mac OS X, and Microsoft Windows platforms.
Warning
This is a preview version, so there are missing graphics, sounds, and the odd bug here and there. Be warned.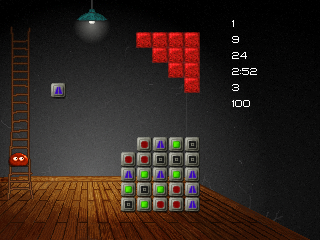 The game is controlled exclusively using the keyboard or a joystick / game pad that maps its buttons to keys.
Left, h, A, or B: Throw the blob's block.
Up or k: Move the blob up.
Down or j: Move the blob down.
Enter or Start: Start the game or pause when ingame.
Escape, Click + Start, or Y in the title screen: exit.
Flipull is distributed as Free Software under the terms of the GNU General Public License (GPL) version 2.